Diversity and inclusion celebrated at Saskatchewan Winter Games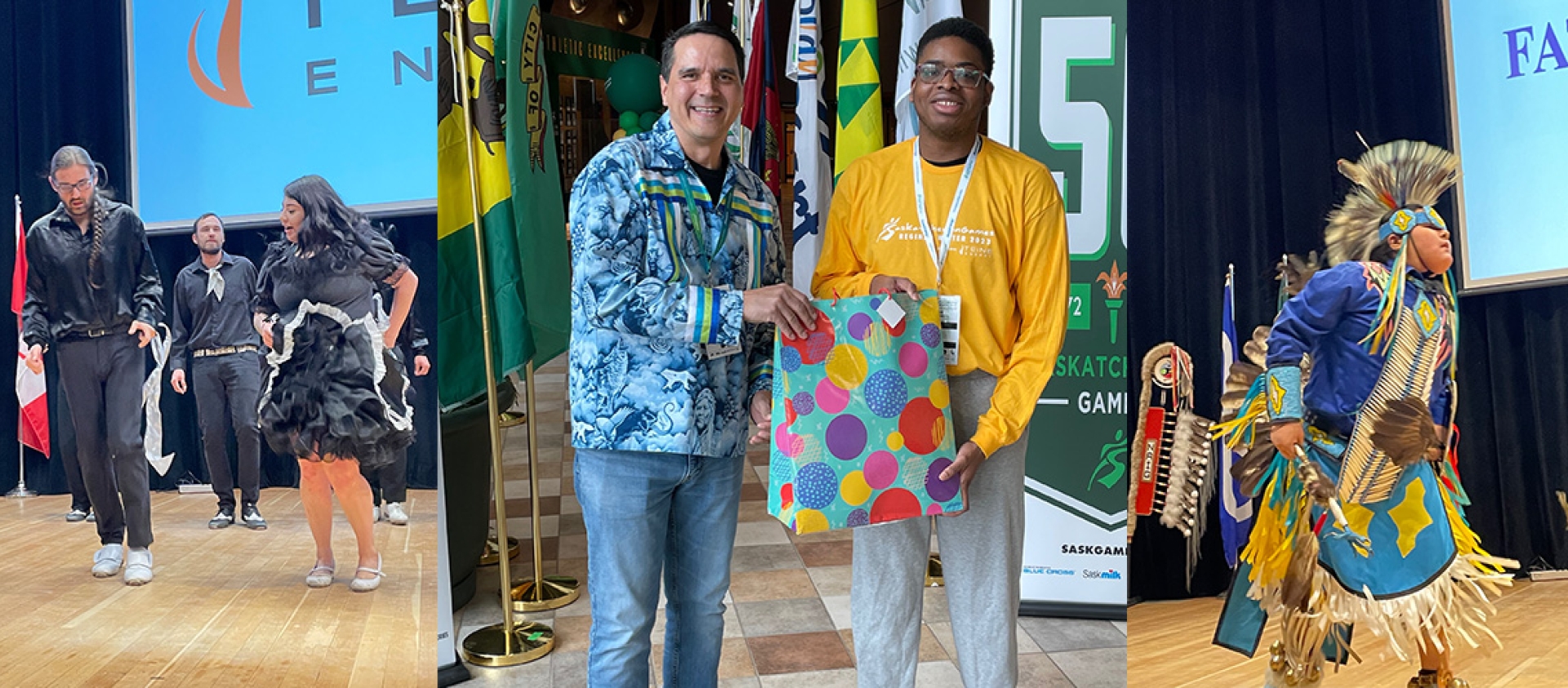 The Saskatchewan Winter Games truly are for everyone. This was demonstrated through efforts to make volunteering accessible at this year's Games, and through cultural celebrations showcasing the diversity of our province. 
SaskEnergy was proud to be the Champion of Volunteers for the 50th Saskatchewan Winter Games, a youth sporting celebration that took place in Regina from February 19 to 25, supported by 700 volunteers. 
One volunteer who deserves a special shout-out is 19-year-old Ebuka Nwobodo, a newcomer from Nigeria. Ebuka helped by working as security to check badges and make sure people got what they needed. He knew all the rules for the Games, having read its guide ahead of time. He also set up the mats for wrestling.  
Melanie Baumann, a member of the host Organizing Committee, met Ebuka during the pep rally. Ebuka shared that he has autism and Melanie worked with him to find roles that best suited his talents. 
"With athletes and coaches representing different levels of skills and abilities, it's important for them to see volunteers who are of all ages, skills and abilities too. I believe everyone has a strength, and my role was to help them find their place to shine," says Melanie. "Ebuka was a wonderful volunteer who brought so much enthusiasm to our events." 
Joseph Daniels, SaskEnergy's Director of Indigenous Engagement, presented Ebuka with a gift in recognition of his hard work. He was especially moved when Ebuka gave him a hug. 
"He's a fine young man who's gone above and beyond. He's a perfect example of a 'champion' volunteer," says Joseph. The Games committee had approached Joseph about a cultural component to the event. The Cultural Festival that Joseph helped to organize was a significant part of the Games and was free to attend for anyone in the community.
The festival, which took place over three evenings at the University of Regina, featured performances by a diverse array of singers and dancers, as well as a panel discussion on the Truth and Reconciliation Commission's Calls to Action Numbers 87-91, as they pertain to the inclusion of Indigenous communities in sport. The panel included former NHL player Scott Daniels and Sydney Daniels, a scout for the Winnipeg Jets. 
"I'm proud to be part of a company that recognizes youth and values diversity and inclusion," says Joseph. "This is one of the coolest things I've been involved in with SaskEnergy."